Five matches played and four victories – it was another very good weekend for the club as the 1s continued their winning ways, the 2s maintained top spot in the table, the 3s got off the mark and we booked our place in round 2 of the SPCL T20.
CALMORE SPORTS v SPARSHOLT
SPCL Division 1
Calmore Sports won by 5 runs
Calmore Sports 150-9 (Will Brewster 41, Shawn Johnson 20)
Sarisbury Athletic 145 (Liam Carty 4/25, Ben Perry 3/44, James Manning 2/17)
A third victory in a row for the 1st XI as they squeezed past winless Sparsholt by just five runs in a tense, low scoring encounter to keep themselves in the pack of four clubs with three wins and a defeat at the summit of SPCL Division One.
There was a rare failure for Ben Johns, who was trapped leg before for just 4 but his opening partner Will Brewster stepped up with a patient 43 and received some support from Marcus Bound (11) and Shawn Johnson (20).  However, wickets fell at regular intervals as the seven Sparsholt bowlers kept the scoring to a minimum although they were more than generous with the extras, totalling 32 being Calmore's second highest scorer!
Steve Wright's required unbeaten 19 in a 14-run stand for the tenth wicket with Dan Croft at least took the total to 150 and another bonus point.
The home side were typically economical in the chase with Sparsholt reaching 50 at the 25-over drinks interval but, importantly for the visitors, without loss.  25 overs to go, 100 runs to win and 10 wickets in hand should have been more than a platform to see them to a comfortable victory chasing down four runs per over.  But it was an inspired spell by the spinners, especially from off-break bowler Liam Carty, claiming his second four-wicket haul of the season, that undermined the chase.  He finished with 4-25 and Ben Perry 3-44 as 86-3 became 115-7 when the dangerous veteran Banks was bowled.
Doran, batting at number eight, tried his best with a 16-ball 21 but they reached the final over needing 10 to win with one wicket in hand and Jimmy Manning clinched the victory, claiming the final scalp with three balls remaining.
A stunning comeback victory for Mark Lavelle's side who had looked second best for much of the contest.
GOSPORT BOROUGH II v CALMORE SPORTS II
Hampshire League Division 3 South
Calmore Sports II won by 155 runs
Calmore Sports II 266-6 (Michael Cook 106, Mike West 49, Ryan Lomax 34*)
Gosport Borough II 111 (Mike West 4-26, Ryan Lomax 2-5, Yannick de Mezieres Lepervanche 2-24)
It has been a superb start to the season for Matt Taylor's second XI, as they collected another maximum 24-point haul with a professional performance in thrashing Gosport Borough II by 155 runs at Privett Park to maintain their hold at the top of Division 3 South table.
Winning the toss and choosing the bat, Calmore got off to a positive start with Paul Lock (20) and 'Dippy' Dey with a 12-ball 21, including a six onto the neighbouring football ground but two wickets for Caswell and left-arm loopy spinner Grant looked to derail the innings as they slipped to 101-4.
However, opener Michael Cook was in inspired form and recorded his second Saturday league century for the club, hitting 13 fours and two sixes in a league-best 106 from 118 balls (surpassing the 102 he scored for the 4ths against Michelmersh & Timsbury at the Old Ground in 2014).  He shared in a 106-run stand with Mike West, who fell agonisingly short of his first Calmore half-century in ten years when he was caught and bowled for 49.  Ryan Lomax chipped in with an unbeaten 34 as they closed of 266-6 – the first time the 2s have recorded back-to-back 250+ scores in their league history!
A plethora of wides did give Gosport a foot up on their chase but Yannick claimed 2-24 to start the procession which was continued by all-rounder West who charged in with 4-26 to sink the hosts for just 111, with the assistance of Lomax (2-5) and a wicket each for Parker and Rose.
The 2s have dropped just two points all season and they sit top of the tree, being one of three unbeaten sides along with Kerala and Locks Heath.
CALMORE SPORTS III v RYDE
Hampshire League Division 4 South
Calmore Sports III won by 7 wickets
Ryde II 76 (Liam Golding 2-4, Paul Henry 2-7, Allan Hurst 2-8, Sam Vidler 2-16, Callum Greasley 2-19)
Calmore Sports III 79-3 (Paul Henry 29, Ryan Aston 21*)
The 3s are up and running!  Callum Greasley's side got their first win of the season in County 4 South with a commanding seven-wicket victory over Ryde II at the Sports Centre.
Choosing to bat first, the Islanders made a decent start, reaching 37-1 but soon found themselves 41-5 on their way to being bowled out for just 76 as five of the six bowlers used taking a couple of wickets each.  Sam Vidler was the pick with 2-16 from his full nine overs while Allan Hurst was outstanding for his figures of 8-4-8-2.  Liam Golding's 14-balls gleaned him a brace of wickets before a nasty popped shoulder ended his afternoon only for the skipper to replace him and grab 2-19 while the ever dependable Paul Henry cleaned up with 2-7.
They did lose three wickets on their way to the meagre total but it was a simple enough challenge, completed in 14.3 overs with Henry leading the way with 29 and debutant Ryan Aston showing his mettle with an unbeaten 21.
The 3s are now 13th in the table and travel to winless bottom side Kerala II next weekend.
CHRISTCHURCH III v CALMORE SPORTS IV
Hampshire League Division 6 West
Christchurch III won by 7 wickets
A very youthful Calmore 4ths travelled to Christchurch and were well beaten by seven wickets on a wicket that experienced skipper James Hibberd described as "often dangerous".
The home side won the toss and asked Calmore to bat first and they were soon 7-5!  Only newcomer Ollie Osborn (9) stood up in the face of the invarible bounce before skipper Hibberd (27 off 25 balls) gave his side something to bowl at, albeit just 58 all out.
There was some good bowling as it took the hosts 15.3 overs to chase down the 59 needed with a wicket for Stewart Abbott (3-1-2-1) and Ollie Hibberd (1-13) while Pete O'Neill (0-7) was worthy of mention as the talented young side performed admirably in the conditions.
SUNDAY
CALMORE SPORTS v PORTSMOUTH & SOUTHSEA
SPCL T20 Cup Round 1
Calmore Sports won by 10 wickets
Portsmouth & Southsea 108-9 (Liam Carty 4-16, Dan Croft 3-16)
Calmore Sports 111-0 (Ben Johns 81*, Shawn Johnson 25*)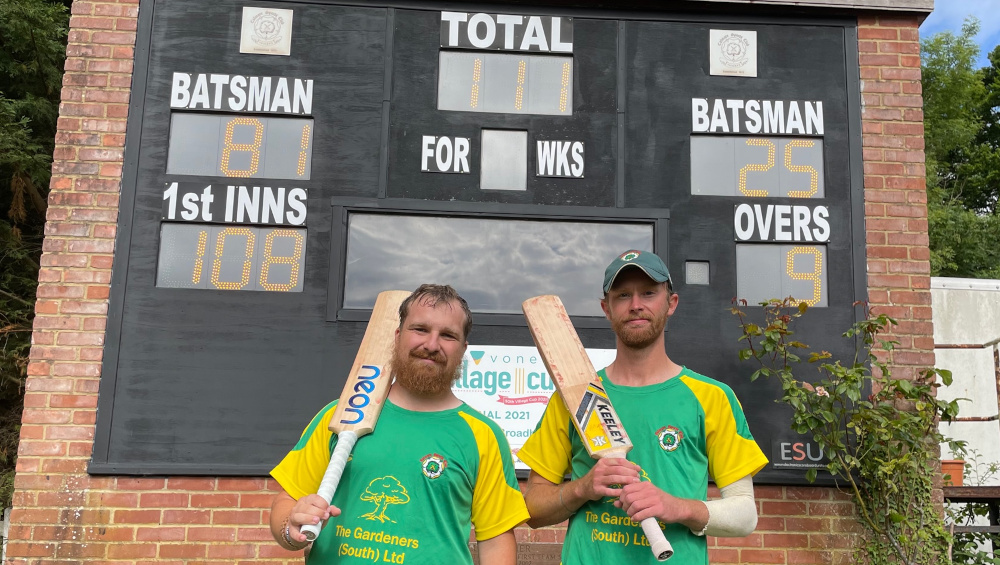 Calmore Sports booked their place into round two of the SPCL T20 Cup with a sensational 10-wicket victory over Division 3 table-toppers Portsmouth & Southsea, thanks to a quite sublime unbeaten 81 from just 40 balls from the in-form Ben Johns and a second four-wicket haul of the weekend for Liam Carty.
The visitors won the toss and batted first and steadily made their way to 29 before Dan Croft sent the prolific Jack Davies (15) and keeper Alex Davidson back to the pavilion on his way to a double-wicket maiden which cut the batting open.  Opener Matthew Benfield (32) held firm before Carty (4-16) got amongst the wickets again and was well supported by Mitch Parker (1-22) and the left-arm rolls of Ryan Lomax (1-16), sending P&S from 63-2 to 98-9 in quick time.  Croft closed on 3-16 as the unbeaten side were restricted to 108-9 from their 20 overs – whilst dodging the showers as they did!
What followed in the chase was a masterclass from Johns.  He smashed 16 fours and a six in his 40-ball stay – bringing up his 50 from 25 balls after just 4.5 overs while his partner, Shawn Johnson was on just one.
Johnson was a mere spectator as Johns was brutal on the bowlers, smashing down the ground, driving, pulling, sweeping and cutting his way to an unbeaten 81.  His partner did join in with 25 from 18 balls as they knocked off the 109 needed in just 9.3 overs.
It was just the third time in our SPCL T20 history that we had won chasing – the first time since defeating Waterlooville seven years ago!!