It has been over 50 years since a girl pulled on a Calmore Sports shirt in a senior game of cricket but 12-year-old Hounsdown School student Eve O'Neill is being tipped to follow in the footsteps of a club trailblazer from the late 1960s, Margaret Wilks, after impressing on her club debut on Saturday.
Southampton-born Margaret played in nine limited-overs internationals, including two Women's World Cups for Young England in 1973 and England in 1978.  But she cut her early cricket playing teeth with Calmore Sports, appearing in a handful of friendly matches at the tail end of the 1960s, when she wasn't scoring for the 1st XI and it is thought by many that Eve will not only match but better her record.
Eve, a right-handed batter and a very tidy leg-spin bowler made her debut in Saturday's 3rd XI fixture against Locks Heath 2nd XI at the Royal Victoria Country Park alongside her older brother Pete, 14, who was also making his first senior start (pictured above during the game – Pete doesn't have any white trousers as yet as he normally plays in the Calmore Cougars side that wear colours!).
She hit a delightful cover drive for four, coming in at number seven and was very unfortunate not to claim a wicket – a couple of dropped catches and some near misses as she tied the Locks Heath seniors down with six overs for just 24.  The Locks Heath side openly admitted they were mightily impressed with her skill and their batsmen knew they were lucky not to become her maiden senior scalp as they won by nine wickets.
Former Hampshire all-rounder James Hibberd, who she has been under as part of his Hibberd Cricket Academy since she was eight-years-old, believes that she has the talent to go all the way.  "It is very rare that you see a young player so focused on improving every session."
Club captain Mark Lavelle was full of praise for the youngster.  "She will play most Saturdays next year," he beamed, "probably in the threes but potentially in the 2s – she really is that good and at just 13 as she will be next year."
And the Regional Director of Women's Cricket for the South-Central Region and Calmore Sports player and captain Adam Carty admitted he is very much aware of her in his role.  "Eve is a highly talented leg-spinning all-rounder who has a great attitude towards learning, works incredibly hard on her game and is a genuine prospect for the future."
This progression to senior cricket at the club has all come about from the clubs' flourishing youth drive and now both Eve and Pete have Calmore Sports green running through them.  It started with former club captain Darren Vann's daughter Amelia handing out a flyer about Kwik Cricket sessions at the club in 2014 whilst they were both at Abbotswood School when Eve was just 6.  Eve and Pete both joined up, got the bug and have played for the club ever since.
"In Year 6 at Abbotswood, Eve had Ben Perry as her teacher, which led to some discussions about the 2019 World Cup matches during lessons", continues proud Dad, Mike.  "Two more Calmore players, Mitch Parker and Mark Morgan are the sports coaches at Abbotswood, who encouraged Eve with all sports but gave lots of opportunities for inter school cricket competitions and training, which she loved.
"In 2019, Eve played in both the mixed and girls Kwik Cricket teams and both became the Hampshire champions."
She is now a key part of the district and Hampshire county girls teams and is currently in the Girls U13 squad while continuing to very much enjoy and benefit from the coaching sessions she has with James Hibberd.  And James is full of nothing but high praise for her too.
"She is a very strong off side batter who loves pace on the ball," he stated.  "She bowls really tidy leg spin, accurate as well which is also rare for a leggy!  She is physically still pretty weak so there is lots more to come from Eve, she has a really bright future.
"She is a great kid as well.  She has a hugely supportive family and an older brother to practice with, which helps too."
There has also been an impressive scheme for girl cricketers run by the Hampshire Cricket Board and Emma Cowdrill in particular which has allowed  Eve to learn how to score and to umpire – she is a true all-rounder in every sense of the word and this afternoon (Monday) has been helping out coaching with the Under 11s.  She really does have it all.
And is that wasn't enough, she is also a keen student of the game too with her cricketing inspirations all contributing to her Calmore Cougars shirt number of 64 – as it is the sum total of the numbers worn by former New Zealand captain Suzie Bates (11), former England captain Charlotte Edwards (23) and dynamic World Cup winning wicket-keeper batsman, Sarah Taylor (30)
Saturday's game was just the start of a senior career which, if club captain Lavelle's proclamation of "I am going to tip it early that she will play professional cricket at the highest level" comes to fruition, it is a career which everyone at Calmore Sports is very excited about.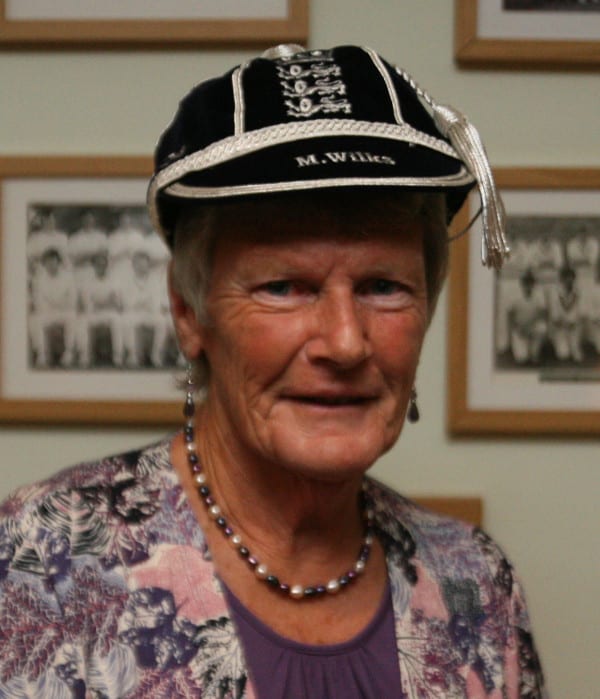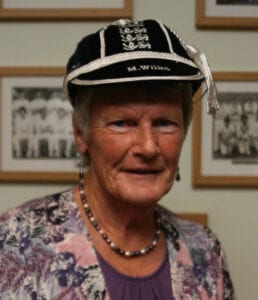 Margaret Wilks receiving
her commemorative
England cap in 2017