And so, that was it.  The 2020 cricket season.  The strangest of all seasons, starting in mid July and ending on a sun drenched mid-September afternoon with the club President's Day in front of over 200 people of all ages, supporting our great club in these most testing of times.
No one really knew whether we would get any cricket this season.  When the Prime Minster Boris Johnson described the cricket ball as a "vector of disease" in a speech at the end of June when questioned why the game, with its natural social distancing provisions in a large field, couldn't restart, hearts sank.
Jono and Mark's online quizzes kept spirits up.  And as Chairman Pete Lavelle commented, "RV's 'On This Day' articles on the website kept everyone going prior to cricket being back on", he said.  "We didn't know if cricket would return this season but reading those kept everyone sane and prevented some from disappearing to the other side of the road!  But all were kept interested in cricket so when we were able to play again, people were ready for go."
Thankfully, with some persuading, Mr Johnson performed a U-turn and cricket was finally given the go ahead and the Southern Premier League swiftly got into action to create the Covid Cup, mixing Premier Division and Division 1 on an East/West basis and giving clubs a nine-week programme from mid July to mid September.
"I think we owe Joe Weston, our groundsman, a huge thank you for getting the ground ready so quickly", said club chairman Pete Lavelle.  "He had generally kept on top of things during lockdown but once we were given the green light to start, it was always going to be a big ask.  I know, having been involved in the SPCL Chairman's discussions prior to the restart that some clubs were going to really struggle but Joe put in so much work in the space of a week.  It was magnificent and the ground looked great."
Once the go ahead was given by the ECB, with all of the provisions, regulations, rules and requirements that came with it, the club got to work in preparation for a return to action.  There would be no changing rooms, track and trace for every visitor, no teas, social distancing on the pitch as much as possible, contactless payments and hand sanitising on the park and off it.  We got used to the sight of players and officials stopping every six overs for a quick squirt from a bottle!
It was a bizarre new cricketing landscape but it was a landscape that was oh so welcome to get cricket back on the park.  The spirit of the club was in full effect and, once play was able to happen, fixtures were hastily arranged for the 2s and 3s and everything that needed to be done, was done.
"There were a lot of rules regarding Covid that we, as a club, had to abide by but Ollie Tull and Clare Taylor ensured everything was in place for that.  The whole committee worked really hard to put everything we needed in place, Ollie was making sure everyone was signed in on match day, it was a real team effort."
When play did restart, we saw one of the highlights of the season – The Calmore Hundred draft, a Maton-Stanton production, a video which received acclaim from all.
https://www.facebook.com/calmoresports/videos/287038882617577
After a handful of inter-club friendlies, which included a superb century for Tom Perry that helped Team Manning to a 13-run victory over Team Lavelle, the SPCL Cup commenced on 18th July 2020 at Loperwood Park when Lymington came for the opening game and were thrashed by 109 runs thanks to Ben Johns' masterful unbeaten 115, four wickets for Yannick and three each for Ben Fisher and the dependable Ben Perry … and we were top of the league which continued following the washout at New Milton in week two.
A humbling defeat at home to Bournemouth followed as our 112 was overhauled with ease and then came probably the most sensational result of the season – the 28 run victory at 2018 SPCL champions St. Cross Symondians, who were caught out on a used wicket and saw nine wickets fall to the spin of Lavelle (3-19), Perry (4-16) and Manning (2-29).
On the same day as that result saw a ground breaking moment for the club when talented 13-year-old Eve O'Neill made her club debut, alongside her brother Pete, in the friendly defeat at Locks Heath 3s, becoming the first female to play in a senior game for over 50 years.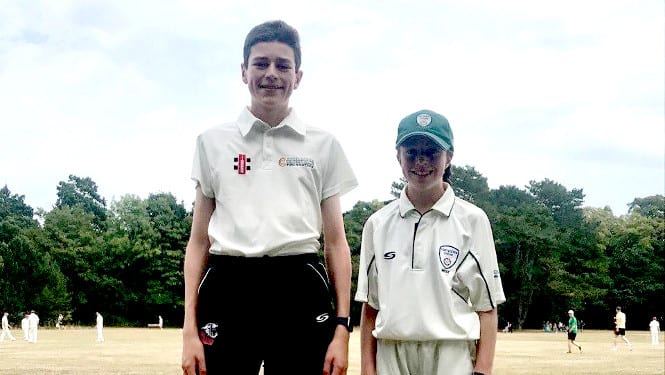 A thrilling tie against local rivals Totton and Eling at Loperwood when former Zimbabwean first-class player Brighton Mugochi bludgeoned 111 from 69 balls but Ben Johns' 81 wasn't quite enough to bring us victory.
Two tough defeats to Premier Division Bashley (Rydal) and South Wilts showed that we had much to do to match the top sides but our final first XI game as a comfortable six wicket win over Andover.
The 2s also enjoyed some friendly games, including a comprehensive win over Totton & Eling 2s and a fine victory over Hook and Newnham 2s thanks to Liam Newton's 77 and four wickets for both Ryan and Liam Carty.  The 3s had big wins over United Services Portsmouth by 72 runs and Compton and Chandler's Ford by 77 runs – 70 for the inform Mike Cotton and 59 for Sam Dempster the highlights.
And then, the season came to its conclusion with a memorable President's Day between the 1st XI and a team of Calmore Legends put together by James Hibberd on behalf of the President.  Well over 200 people came and enjoyed a gloriously sunny day at Loperwood.  It showed the club in its very best light – all ages came to enjoy the day.
"Most certainly the players deserve a huge pat on the back.  They have embraced what has had to be done, getting the games played and adjusted magnificently to what was required", added Pete.  "I don't single out just our players, but it has been the visiting sides to Loperwood too.
"I think it is a huge testament to the Southern Premier League for working so quickly to get the cricket on.  They did a fantastic job to deliver a nine-week season when no-one really knew that was going to happen so late on.  I will be contacting the league chairman Steve Vear to purvey our thanks to him and his committee for the work that they did."
But it wasn't just about the senior sides.  There was a huge debt of gratitude given to Darren Vann, who single handedly arranged all of the colts and junior matches and the impromptu All Stars programme.  "Darren has done an outstanding job getting everything sorted for the juniors, from the U15s to the All Stars."
The club congratulated Ben Fisher on making his first-class debut, just the fifth to play for Calmore Sports to do so but we also said farewell to Callum Stanton, who departed for Dubai to further his footballing career in the middle east.  We saw Tommy Pegler become the first Calmore player to play across five decades in the 1st XI and fielded our youngest 1st XI side for over 11 years.
Considering it was only a short season, so much actually happened!
There are so many people to thank for their hard work on and off the pitch.  Those who have assisted Joe Weston, the groundsman, to those who have cleaned and prepared the club for cricket to happen, to the umpires, the scorers, the players and, of course, the supporters, families and friends for their continued backing of our great club.  The club says a huge THANK YOU!
It has been the most bizarre of all seasons.  From those dark days in mid March just when pre-season training was about to commence through to the patience waiting for the government and the ECB to permit training to restart and then, the full return to playing.  It was hard and certainly testing for all involved but the club spirit shone through and, for that, we can be rightly proud.
#FTM #OneClubMyClub

PERSONAL COMMENT from RVI
I will take this opportunity to say a few thank you's of my own.  It was much appreciated to be recognised in Pete's post-match speech for the efforts in producing the "On This Day" articles for the website.  I thoroughly enjoyed putting them together but I would like to thank all of those people who have assisted me in doing so as without their help, it would have been pretty difficult.
On many an occasion, I asked the players involved to give me their thoughts and recollections of certain days and it was never too much of a problem.  To every single one of you – thank you so very much.