The President's XI 'legends' side exacted revenge upon the National Village Finalist first XI in some style as the 40th year of cricket at Loperwood Park was brought to its conclusion with another fantastic President's Day.
Once again, the great and good of Calmore Sports' past came out in force to challenge Mark Lavelle's Lord's bound outfit (minus a couple) and they were to breeze past their 163 all out total with some seven balls to spare.
As always on a day like this, it was more about the social aspect, to support the club on its final home day of 2021, to reminisce and look back on great times across the years and also look forward to the biggest day in the club's 108 year history in just three weeks time.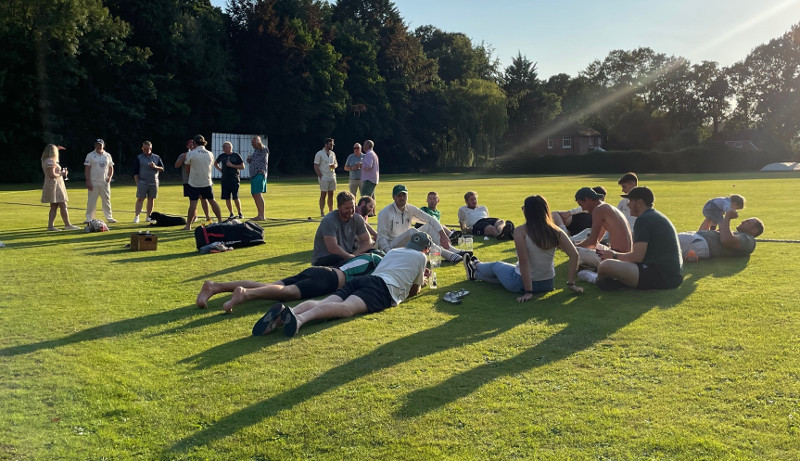 The game itself was another classic, almost taken to the last over and occasionally shrouded in controversy as the heat was turned up – this is no ordinary friendly, end of season fixture – this is a tussle between the new crop of players (and Westy) against the gnarled veterans with 1112 first XI appearances for the club, over 21,000 runs and nearly 600 wickets to their names.
After winning the toss and electing to bat first, the first XI side were rocked by an excellent spell of bowling from Charlie Freeston, who bowled his eight straight through and removed the top three – all bowled – with just 32 on the board in the seventh over.  Shawn Johnson was first to go after smashing three fours, he tried one too many and was cleaned up before talented youngster Marcus Bound chopped on and Mike West likewise.
Freeston finished with 3-43 and was well supported by Paul Cass, who also bowled his eight through and was rewarded by removing Ben Johns to a leading edge for 9.
Ben Fisher and Max Bailey repaired the damage with a timely stand of 50.  The ever wily Paul Draper (2-18), playing his first game in four years, rolled back the years to trap the young keeper lbw for a well made 23.  Dan Croft, promoted up the order, came and went when third XI league champion (!!) James Hibberd breached his defences for two to leave them 95-6.
The situation could have been even worse for the first XI when Fisher, on 21, survived a confident appeal for caught behind off Hibberd but the umpire remained unmoved, much to the chagrin of the fielding side – the President's side!  This certainly boosted the levels in the game but the calm Oxford blue upped the ante by cracking two fours in that same over and easing his way to 47.
He received decent support from skipper Lavelle and Ryan Carty, both scoring 10 before a late flourish from Liam Carty and Matt Taylor lifted their total to 163 – both Carty's removed by now SPCL umpire Simon Williams (2-18), the archetypal poacher turned gamekeeper who returned to his poacher roots when donning the whites once more!
Their total of 163 looked to be below par on another excellent wicket but the President's XI lost Nigel Hill without scoring (off 15 balls) and Dave Brandes (7) as they made slow progress early on despite Ryan Carty's plethora of wides.  Tidy spells from Liam Carty (2-22) and Dan Croft (0-18 off 5) tied the veterans down, as did Lavelle who enticed his predecessor Darren Vann into a shot that saw him removed to follow Brandes, who was stumped by Ben Johns behind the sticks.
At 64-3 at the half way stage, it could have gone either way.
However, Williams was still at the crease and he was joined by Clive Surry – a man who knows plenty of the Lord's Village Final.  Their partnership of 60 from just 57 balls was exactly what was needed for them – the former Calmore and Trojans opener was steady in his approach, reaching his half century in 78 balls but supportive of the latter, who nudged and nurdled the ball around and showed all of his class.
Williams was finally removed for 59, bowled by Lavelle for his third wicket (3-18) while Surry was beaten by Liam Carty for an excellent 47 off 38 balls (5 fours, 1 six).  The job was almost done, despite Hibberd being bowled by Fisher – and receiving the heckling of his son Ollie as he walked off … "you need more nets, Dad".
Tom Pegler, who had looked decidedly scratchy in his innings – with 4 from 27 balls – hit a two and then pulled Fisher for six into the bushes to seal the six wicket victory for the President's side.
It was another outstanding day by everyone involved – both captains James Hibberd and Mark Lavelle, by the President himself and his son Dave, the hard working BBQ staff and bar personnel and everyone at the club who made it happen.  It is what makes Calmore Sports the great club that it is.  Families aplenty enjoying the day, supporting the club and getting themselves ready for the big day on the 19th September.
The season is not quite over.  It is at Loperwood for 2021 and what a season it has been on the ground in its 40th year.  2021 will never be forgotten, but a chapter is still to be written.