Dear Club Members,
UPDATE:  You may have read the changes to practice numbers for cricket. From tomorrow (Monday 8th June) we can net in groups of 6 and no more! All the rules from before remain regarding using your own ball and not sharing as well as social distancing.
All the captains are hoping to run more structured sessions in 6s in the coming weeks but this will take a little bit of planning.
We are hoping games will return July/August time and we have told both leagues we are happy to play throughout September as well!
Good news so far and fingers crossed things continue to improve.
We will allow the use of the clubs outdoor facilities through a booking process, the opening times of the net facilities are midday to 7pm.
The use of the outdoor facilities at Loperwood Park will be strictly for members ONLY, if users from outside of the club are found using the facilities they will be kindly asked to leave the premises, furthermore if members do not follow the rules and restrictions implemented they will also be asked to leave.
It is vitally important we all follow the process in order for the system to work, if this cannot happen we will have no choice but to close the facilities for everybody – we know we are all desperate to get back playing again, but please be considerate for all of our club members.
Bookings can be made by contacting Mark Lavelle by email (mark.lavelle@solent.ac.uk) or by text (please email if you require his phone number). Bookings will be in a 50 minute time slot to allow 10 minutes for a changeover. Not all booking times may be available if the Groundsman is on site, and we ask that when arriving to come via the changing rooms walk in entrance and leave via the scoreboard end exit to your cars. The car park is also in use during the day by NHS staff, so please respect social distancing if they have returned to their vehicles at any point, give them a smile and say a big thank you!
Please see the restrictions implemented by the ECB & the club below:
You must only exercise in groups of no more than six people – names of those practising will be taken when booking.
Social distancing of at least two metres must be maintained at all times (unless all participants are members of the same household).
Only 2 of our 3 net's will be operational to adhere to social distancing – Mark will inform you which one to use when booking is confirmed.
NO indoor facilities including toilets will be accessible.
Take all belongings and litter home with you.
We recommend using your own equipment if possible. Stumps will be in the nets ready for use and sanitised regularly, where possible please avoid contact with the stumps.
No saliva or sweat should come into contact with the ball at any time.
Wash hands at home before and after using the outdoor facilities, bring your own hand sanitiser where possible.
All under 18's must be accompanied by a responsible adult.
Check for symptoms of COVID-19. In line with current Government guidance, if you are symptomatic, living in a household with a possible COVID-19 infection or if you are classified as extremely vulnerable on health grounds, you should remain at home and follow Government guidance.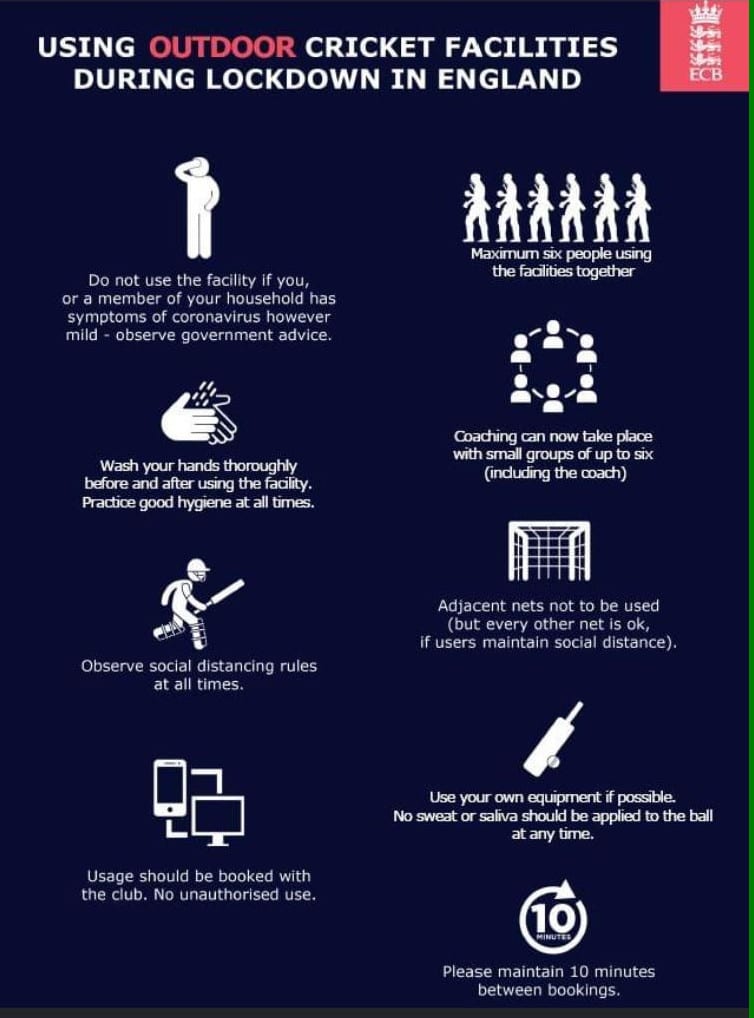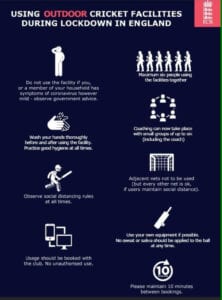 If you do not wish to use the practice net facilities and only want to use the outfield for All Stars/Dynamos/Fielding activities this is fine, and we just ask that you inform Mark of your intentions with this, whilst also following the above guidance regarding equipment and social distancing measures.
Please take time to read the Full ECB guidance before placing a booking:  https://www.ecb.co.uk/news/1668576/ecb-guidelines-for-the-use-of-outdoor-cricket-facilities-in-lockdown
Thank you for your co-operation during these very difficult times, at Calmore we have a true club spirit and I have no doubt we will all follow the guidelines above and ensure that Cricket practice can take place, and who knows we may even get a game or two in come Summer end!
The Committee