He has been quite something this year!  And as Jack Rutter prepares to pack his bags and head back to Melbourne, via a little bit more travelling around Europe, he was presented with a signed Calmore Sports Club shirt in recognition of an outstanding year with the club.
Ranked as one of the best overseas players the club have been fortunate to get, both on and, in many ways, off the field as well, Jack has fitted in brilliantly at Loperwood Park and his superb record of 351 runs (average 35.10) and 26 wickets (average 16.53) made him an instant hit as the 1st XI recorded back-to-back league titles.
Skipper Mark Lavelle paid tribute to him during his speech at the Senior Presentation night on Friday.  "He has been absolutely brilliant," he said.  "Jack has been one of the best overseas players in my time at the club, certainly up there with Wallo [Michael Wallace in 2010].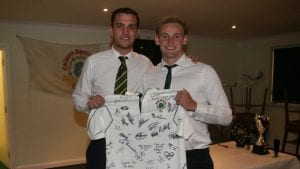 "The way he has fitted into the club both on and off the field, you'd think he's been out of us for years.
"He will be truly missed by everyone.  He's one of the great guys who you want in your team, his contributions with bat and ball have been pivotal in the successes and I think I speak for everyone when I wish him all the best back in Australia, and if ever he wants to come back to the UK as a player, he's always welcome at Calmore Sports as as a great mate there will always be room for him.
"Going to miss you, Rutts!"