Calmore Sports Club scooped three awards at the Southern Electric Premier League Dinner and Presentation night with the ground at Loperwood Park receiving the fantastic recognition of "Most Improved Ground in the Southern Electric Premier League".
Groundsman James Rose was certainly the centre of attention as he went up and collected the trophy from Alan Bundy and received the full plaudits of the league for his outstanding transformation of the playing surfaces and the surrounds at Loperwood Park.
James was up a second time as he scooped the SEPCL Division 1 Bowler of the Month prize for August 2015 from the Chairman of the League, David Ridley.  He took an impressive 15 wickets at just 9.00 runs a piece in the month and was the only Calmore player to receive a monthly award this season.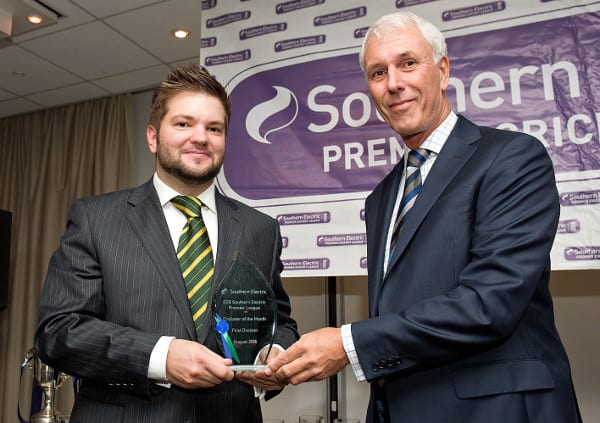 Despite suffering relegation from SEPCL Division 1, skipper Mark Lavelle was able to step up to receive a trophy as the 1st XI once again were recognised as the "Fair Play Award" winners for the division, jointly this time with Rowledge.
It is the second year in a row that the team have scooped that particular prize, lifting the Division 2 award in 2014.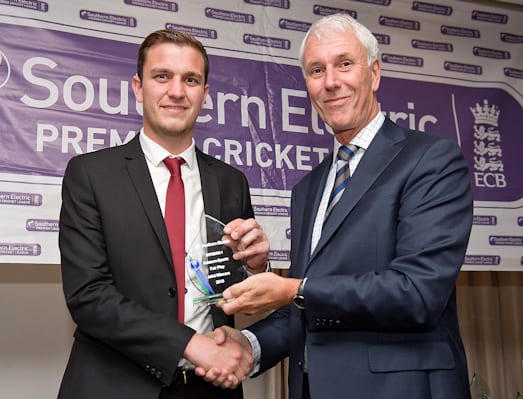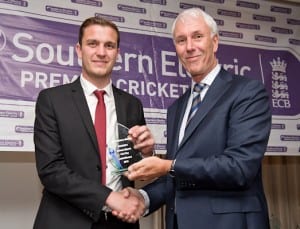 Another highly successful evening for Calmore Sports Club and many congratulations to James on his two gongs and Mark, on behalf of the whole team, on their award.
All photogaphs by LMI Photography – ARB