It is decidedly rare that a player, at the top level of club cricket, doesn't miss a game.  There are holidays, barbeques, music festivals and parties to attend amongst many reasons for absence or just the misfortune of suffering an injury which can keep a player on the sidelines.
But not Ben Johns.
Since making his debut as a fresh-faced but hugely talented 15-year-old at the start of the 2013 season, Ben has not missed a single 1st XI Southern Premier League match, completing a century of SPCL appearances in the narrow 3-wicket victory over Hartley Wintney at the back end of August.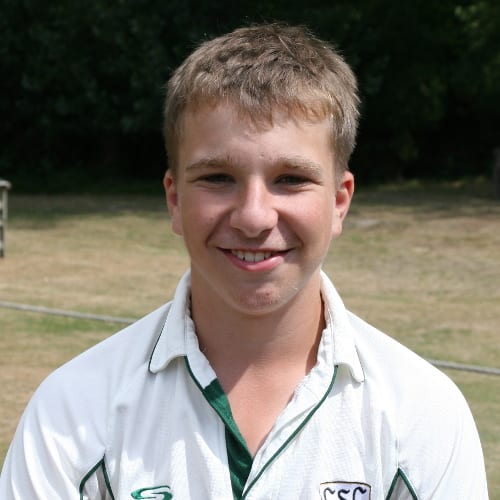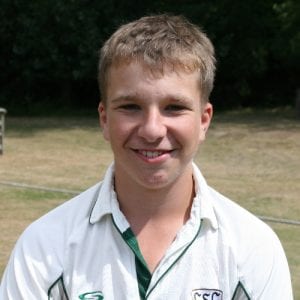 BEN in 2013!

And what a debut it was too on 4 May 2013 against Tichborne Park, cracking a sublime unbeaten 122 off 148 balls and leading the side to a comfortable 78 run victory, not bad considering the home side had asked Calmore to bat first!
Just three Calmore batsmen have batted more than 20 innings and averaged over 30 and Ben is one of them (Draper and Goode the others) and he is in exalted company as one of five batsmen to strike three centuries (with Wallace, Draper, Pegler and Archer).
And given that he is still only 20 years old, his record of 2,856 runs is just 1,426 runs behind the Calmore record held by Tom Pegler.
A classy left-hand batsman, Ben has been the engine room of Calmore's two Championship winning seasons and he is committed to continuing to be so.  His record of 101 SPCL matches, without a match missed, will take some beating after he passed his captain's mark of 99 games in a row when Mark missed a game in early August.
Congratulations 'Johnser' – a name etched in Calmore Sports history … and he is only 20!